Musikalische Reisen zu geheim-
nisvollen Orten und Geschichten...

Musical journeys to mysterious
places and tales...

Diese beide Alben finden Sie
auf der Bandcamp Seite von Jamuroo

This both albums you find on the
Bandcamp site of Jamuroo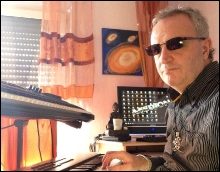 Jamuroo & Wolfgang Gsell

Jamuroo alias Gottfried Bonn aus
Bergheim ist ein New Age Musiker
und Autor grenzwissenschaftlicher
Bücher. Bisher gibt es sieben ge-
meinsame Alben der beiden Musiker.

Jamuroo aka Gottried Bonn from
Bergheim is a New Age Musician
and author of Fringe Science Books.
There a seven collaboration album
of the both musicians.